Pleated blinds are neat, modern and an increasingly popular choice.
They offer a fashionable modern look for your windows or conservatory and are tailor-made to fit the most intricate and complicated windows. They are particularly suited as conservatory roof blinds. Blind Technique manufactures all of these blinds by hand in the UK and it is this accuracy of manufacture and quality of installation that gives you perfect results every time. You can choose from a wide range of shades, colours and patterns that are available in a beautiful range of fabrics, including our technically advanced fabrics.
The manufacturing process, at our main factory workshop just outside London, employs a friction system which means that the blinds can be placed in any position from fully open to fully closed and stay there without any cables, cords or ties. The advantages of this system are:
Pleated blinds advantages
Easy to operate - no messy or dangling control cables
Neat, tidy and stylish blind product - Modern and Contemporary
Increased privacy and light control - including single pleat and cellular fabric
Available in the revolutionary Perfect Fit frames
Available as matching side window and roof blinds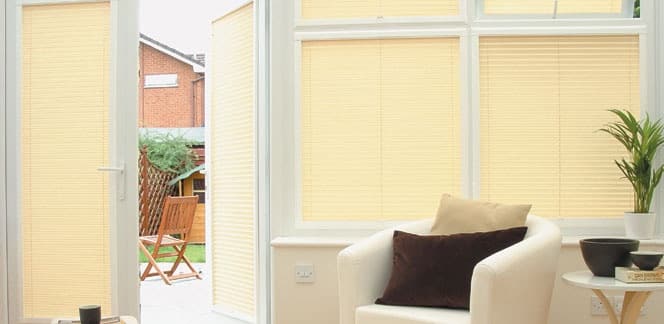 Pleated conservatory blinds
In the UK, conservatory pleated blinds have benefitted from many technical advances over recent years. There has been a total shift in the market from 25mm pleats, available up until a few years ago, to 20mm pleats. Today Blind Technique manufactures all of our blinds in 20mm pleats only. The main advantages are a smaller and neater headrail, an improved ability to fit intricate and shaped windows, and an overall tidier and more aesthetic appearance. This reduction in pleat size has also made them an ever increasingly popular choice with the revolutionary new perfect-fit system and the INTU system. Perfect-fit pleated blinds fit directly into the window frame with no drilling or screwing, giving the ultimate finish. We can also motorise our pleated blinds, for more information and to see a videoexample click through to our motorisation page.
The range from blind technique
As Blind Technique makes all of these blinds in our factory in Eastcote, Middlesex (NW London), we will be delighted to demonstrate how they work in our showroom and if you are interested show you around the factory too. Equally we are always happy to arrange an appointment at your convenience when we will visit you in your home. This way we can advise you on the best options available. Each of our sales staff has first hand knowledge of the manufacturing process and has spent time making blinds in our London based factory. They will bring with them demonstration blinds to explain the operation as well as our full range of fabrics including single pleat and cellular often known as honeycomb.
Find out more...
Read more