Vertical blinds are stylish and practical.
The vertical louvres enable you to filter the light entering your room from total privacy they rotate through 180º to deflect the suns rays whatever the time of day. There is an option to curve the track for bay or bow windows and stagger the louvers for sloping windows. Additionally you can choose whether your vertical blind opens to the right, left, or splits to open both sides like a pair of curtains would.
Vertical blind options
Practical and stylish with control options – including motorised.
Over 300 fabrics to choose from.
Filter light to achieve privacy and sun protection.
Versatile for different windows and doors – particularly suited to larger windows and openings.
Child safe wand operation available with no cords or chains.
Perfect in your home as well as for commercial offices and applications.
Vertical blinds are a great value product for a cost effective solution.
Whatever your taste and whichever room or office you are decorating we are sure to have a vertical blind fabric for you. With over 300 colours, shades and textures in our range you will be spoilt for choice. We also have special performance fabrics: dim-out, fire retardant, and our practical and hardwearing PVC range; perfect for bathrooms and kitchens with a steamy environment and easy to wipe clean.
Motorised vertical blinds
Vertical blinds can be motorised, enabling you to tilt the louvres remotely. This is a great option for difficult to reach blinds and also to eliminate control cords. Remote control can be via a hand held device or a wall mounted switch and most recently connected to your home hub and controlled via app!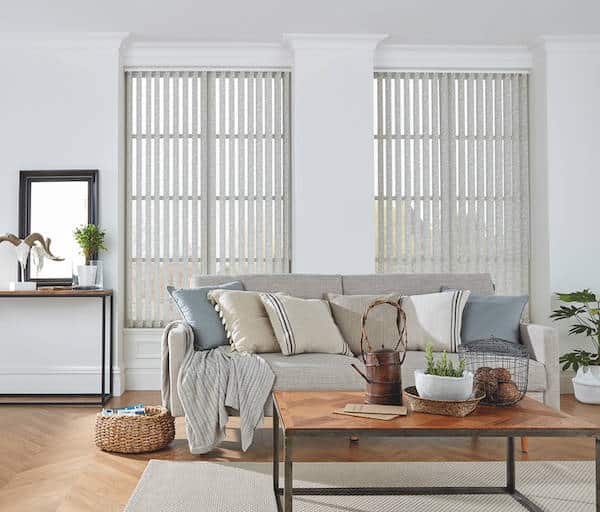 Allusion blinds
This is one of the newest types of blind system to the market and is based on a vertical blind. Using the same hardware and components, these new fabrcis give you an upgraded solution that is somewhere between a curtain or voile and a vertical blind. We have this blind on display in our showroom, or ,click here for more information...
Find out more...
Read more