At Blind Technique, we offer a complete range of window blinds and we can help you decide on the best solution for you.
When choosing new window blinds, there are many things to consider including the style, material, fabric, shade and colour. In a free consultation, our advisors will listen to what you would like to achieve and will then suggest products that are both suitable for your installation and meet your requirements. Once the style of window blinds is decided, then there will be a huge variety of fabrics, colours and patterns to choose from. Contact us today to arrange a FREE home consultation!
Locally Made Window Blinds
We benefit from making many of our window blinds locally in our dedicated workshop which is different to most of our local competitors who we also supply blinds to. Having the control and ability to hand make these blinds using the best quality fabrics and components gives us total control of our high-quality finished products. We are lucky to have a very experienced team of blind makers who have manufactured pleated, roller, vertical, duo-vision and perfect-fit blinds for many years for our valued local customers.
Motorised Window Blinds
Window blinds can be fitted to all styles of windows, doors or openings at your home or office. We offer a full range of motorised solutions that are suitable for most types of window blinds. Battery motorised window blinds have become much more affordable and accessible meaning that you can power your blinds remotely without having to do any wiring or providing a mains power supply. This opens up the possibility to nearly every blind and every window. One of our advisors will give you more information on our Louvolite and Somfy power options. Find out more by visiting our motorisation page.
Blind Technique are proud to be a select dealer for Luxaflex window blinds. This range offers a few types that are unique to Luxaflex, such as the Facette Shades and the Silhouette Blinds. Often seen as the window blind of choice for designers, this range embraces high quality mechanisms, modern controls, the best materials and innovative new products. These window blinds are of a higher specification than our standard range and are the same top end range as found in John Lewis department stores.
Standard Window Blinds
Our standard range of window blinds uses good quality materials, robust mechanisms and a good choice of fabrics and materials that offer both practicality and good value. All of these window blinds have a variety of options for controlling and fitting them, as well as the fabric, material and colour options.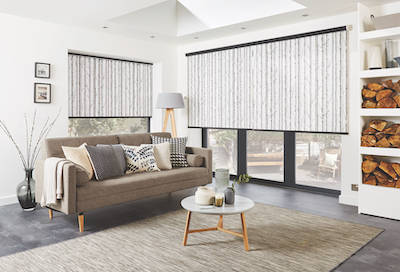 The Advantages of Window Blinds
The advantages of window blinds include shading, privacy, control of light & heat, blackout, décor and window dressing. Additionally, we have high specification fabrics for our roller blinds and pleated blinds that will keep you cool in the summer and prevent heat loss in the winter. Blind Technique has fabrics for window blinds particularly suited for your bathroom or kitchen, blackout fabric blinds for your bedroom, the latest contemporary styles for your lounge or dining room, and light control and privacy for your studies and ground floor windows. Additionally, many of these window blinds can be motorised.
Our team will be able to find window blinds that are suitable for every room and every window in every home and every office, in a style, pattern or colour that is perfect for you. For further information please select the type of window blind you are interested in below. Our showroom in Eastcote, Middlesex, NW London, has all the many types of window blind on display and we will be delighted to welcome you soon.
Find out more about our window blinds...
Read more