Velux & Skylight Blinds
We supply and fit genuine Velux Blinds for your skylight and rooflight windows and offer the entire range. You can choose from Roller Blinds, Pleated Blinds or Venetian Blinds. The Velux Roller and Pleated styles offer a vast range of fabrics to choose from: translucent fabrics for a soft ambiance, or high performance fabrics for blackout and heat advantages. Keep cool in the summer, especially suitable in loft rooms and save energy through heat loss and therefore money in the winter. Velux Venetian Blinds are a great choice for kitchens and bathrooms due to the heat resistant aluminium material and resistance to humidity. Our most popular genuine Velux Blind is the DKL Blackout Roller Blind. These are the choice of colours for this type of blind…
Full range of velux blinds
Pleated Blinds
Honeycomb / Energy Blinds
Roller Blinds
Venetian Blinds
Battery Operated Remote Control
Electric Blinds
Complete range of styles, fabrics, and options.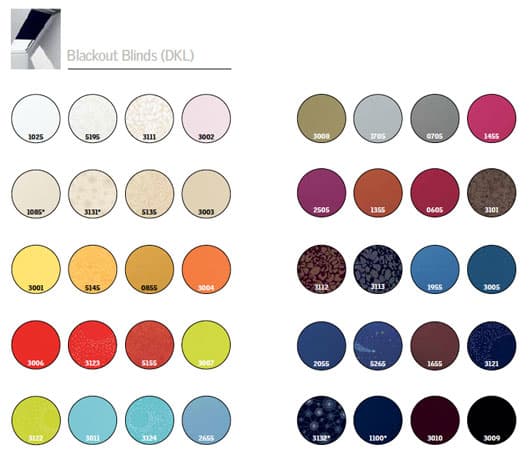 A few Velux blinds can be browsed in our image gallery, or via a web search. If you need any help please contact us for further information. On your Velux window there is a code which will tell us exactly the size of blind you require, starting with a three letter code beginning with a G or V followed by another code for example GGL S05. If you can check this code first it will help us to help you.
Not a Velux? Don't worry we can make blinds for any window size and also offer the other main skylight roof blind ranges.
The full range of Velux fabrics and options can be seen in the pdf brochure,and we have a few display skylight roof blinds in our showroom in Eastcote, Ruislip, Middlesex (NW London). If you prefer us to visit you at home with the samples and options please fill in the contact us form or give us a call on 0208 866 6088.
Velux Window Warning - as printed in the press June 2011. A batch of windows produced and sold between 1997 - 2003 have a risk of spontaneous glass breakage particularly in the Winter. It affects only small windows of 39cm / 15.5inches or less. If you believe your product may be affected we recommend that you contact Velux for further information....all of which can be found on their website.
Read more