Awning Installation
An Awning is a large and heavy piece of furniture that needs to be installed correctly. When it is open or extended the large amount of fabric acts like a sail and even in light winds an extreme amount of force is exerted on the brackets and fixings. Therefore the right fixings and brackets must be used, and secured properly. Special considerations regarding the surface an awning is fitted to are nearly always applicable and therefore Blind Technique will always recommend fitting of the awning ourselves by our own fitters.
Contact us today for a FREE home consultation!
First of all the position of the awning needs to be worked out, considering the lateral and the vertical position of the awning bearing in mind the angle of slope and vertical clearance when extended. From here you work out where the brackets need to be fitted and then drill the necessary holes required.
As professional installers, we make sure that we work as neat and as tidy as possible. In this instance, it shows us using a vacuum cleaner to eliminate the brick dust created by drilling. This keeps your windows and your plants as clean as possible.
Given the weight of an awning and the forces exerted, merely screwing the bracket to the wall is not strong enough. We use HILTI chemical fixing, this is piped into the holes that were drilled earlier.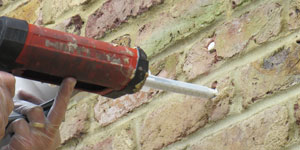 The bolts are then inserted into the hole containing the HILTI chemical fix and this secures the bolt into the wall, ready for the bracket.
The awning bracket, onto which the awning is later fitted is then secured and bolted into place.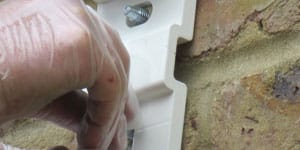 The awning is then fitted onto the wall mounted brackets. As it is very heavy it is therefore imperative that the brackets are installed correctly positioned and level. This way it will fit easily into the brackets and be ready for the final adjustments.
Blind Technique installers will then explain exactly how the awning works, with tips on best practice and what not to do. When the customer is fully satisfied there is a small amount of paperwork to complete and the job is done.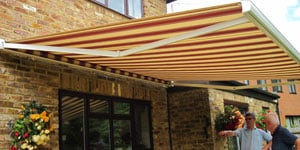 The awning is now fully and professionally installed and ready for you to enjoy. This installation example features 2 full cassette motorised awnings from the Puma range
For any further information or questions on awnings, canopies or umbrellas please give us a call on 0208 866 6088
Read more