This type of blind has become extremely popular over the last few years, moving from a timeless classic to a modern and contemporary 'must-have' to complement today's interior design trends.
Blind Technique has a carefully selected range of natural wood shades; choose from dark wood to lighter stains and painted colours. Depending which style and colour you opt for they will be available in several of 4 slat widths, 25mm, 35mm, 50mm or 63mm. Bigger windows tend to favour a wider slat and vice versa, though the choice is largely personal.
Modern contemporary and fashionable
Light filtering to reduce glare and give privacy
Easy to use with a choice of control options
Available with either Cord or Tape
Options to fit either inside or outside recess, and suitable for bay windows
Made to Measure
The design of the Venetian blind enables you to easily filter or close out the light by tilting the horizontal slats, as well as open it fully to achieve maximum sunlight. This advantage makes it a versatile option suited equally for living areas, bedrooms a home office or study. The renaissance of the highly fashionable wooden venetian blind has made it a favourite and we have installed them in every possible room in your home. If you like this style then perhaps upgrading to plantation shutters is another option for you to consider.
Wooden venetian blinds - our standard range
Our standard range of wooden venetian blinds is manufactured from real wood in standard sizes and then cut down to the exact size of your window. There are many different manufacturers and levels of quality on the market and our standard range of wooden venetian blinds are at the top end of this range with a robust operating mechanism and qualtiy wood giving an elegant finished product. A choice of slat sizes are available in a range of painted and stained colours, you can normally choose the orientation of your control cords and you can add tapes in a choice of colours to give the blind a more sophisticated look.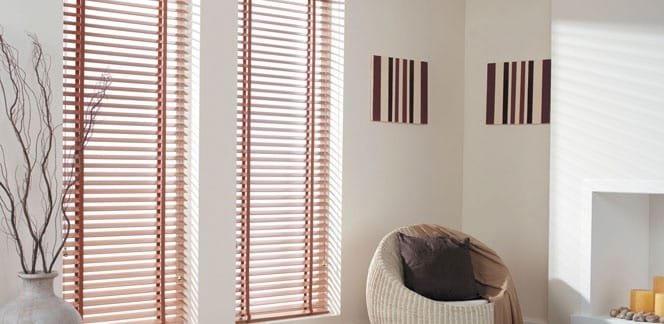 Expressions the wood effect range
The latest addition to our range are the newer composite wood effect blinds. Also available in a varity of colours and slat sizes these imitation wooden venetian blinds are high quality and impressive to see. At a distance you would have trouble to tell them apart from the real wood equivalent. The advantage and indeed reason for these blinds is that wood, as a natural product, is not always suited to every environment. In wet or humid conditions such as your bathroom it can warp and deteriorate, whereas these specially designed composite equivalents are waterproof and easy to clean and maintain. At a slightly lower price point than the real wood equivalent, customers are often choosing our Expressions imitation wooden venetian blinds as an alternative for any room.
Pure wood top of the range
Our top of the range wooden venetian blinds are truly made to measure. The newly designed control mechanism is top notch and boasts full control with very high quality components. The wood is of a higher quality and these blinds are hand finished to exacting standards. Unlike the cut down standard range, the edges are always smooth and hand finished, the controls are precisely set equal distance from each side and you therefore achieve a top class uniform look. However, at a price point that is somewhat higher that our standard and expressions ranges, many customers who would have chosen this product several years ago now choose plantation shutters.
Find out more...
Read more