Our range of easy to assemble protective screens provide a cost effective solution to aid social distancing and protect your staff and customers.
Protective screens
Desk screens
Suspended screens
Standing screens
At Blind Technique we have used our expertise in the blinds industry to adapt and create these new protective screens.
Materials
The see-through fabric is made from glass clear biaxially oriented film, made of polyethylene terephthalate (PET).
Benefits
Our screens are easy to assemble and easy to pack away
They are light-weight and can be positioned and moved as required
A cost effective alternative to get people back to work safely without being too permanent or too expensive
Design
* The design may be very slightly different from the images shown.
Desk screens
Desk screen features
Clear, strong, lightweight film
Transparent and wipe clean
Easy to assemble
Clamped to desk, easy to secure and easy to remove
Sneeze guard - provides barrier and protection
Desk screen sizes
Back of desk - Width 1000mm x Height 760mm
Side of desk - Width 700mm x Height 760mm
Bespoke options available - please enquire
Desk screen prices
Single units £80 + VAT
10 or more units £60 each + VAT
Free postage on orders of 10 or more
Free collection available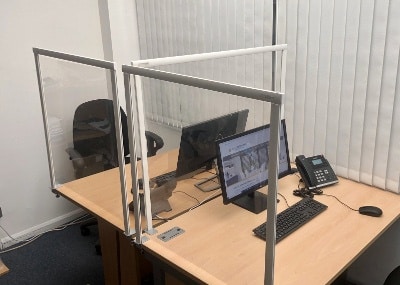 Suspended screens
Suspended screen features
Clear, strong, lightweight film
Transparent and wipe clean
Easy to install
Suspended from ceiling - clips to suspended ceiling or screws in
Secures to desk or counter if required?
Sneeze guard - provides barrier and protection
Suspended screen sizes
Width 1000mm x Height 675mm
Width 1350mm x Height 800mm
Bespoke options available - please enquire
Suspended screen prices
Single units £75 + VAT
10 or more units £56 each + VAT
Free postage on orders of 10 or more
Free collection available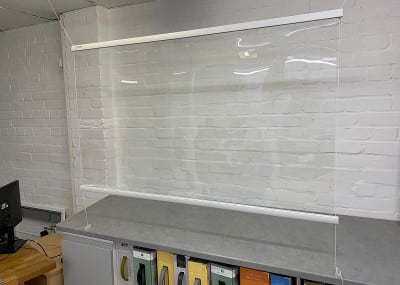 Standing screens
Standing screen features
Stands on the floor, a desk, a table
Wide feet for stability
Clear, strong, lightweight film
Transparent and wipe clean
Easy to assemble
Easy to move
Sneeze guards - provides barrier and protection
10th June - New more rubust design for floor standing screen
Standing screen sizes
Desk/Table standing - Width 1000mm x Height 770mm
Floor standing - Width 1000mm x Height 1800mm
Bespoke options available - please enquire
Standing screen prices
Single units desk standing from £98 each + VAT
Single units floor standing from £148 each + VAT
10 or more units desk standing from £74 each + VAT
10 or more units floor standing from £111 each + VAT
Free postage on orders of 10 or more
Free collection available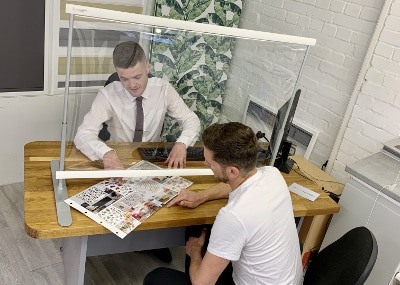 Read more