Our INTU blinds come with an innovative no-drill blind system that allows you to instantly update your home.
Rather than hanging over the windows like traditional blind styles, INTU blinds use a clever tension system to fit into the window beading that comes with most modern UPVC windows and glazed doors.
Our Range of INTU Blinds
This non-drill blind design means that you can quickly update the look of any room in your home without any messy drilling. What's more, INTU blinds also come with a range of innovative features which make them both adaptable and safe. They are suitable for most turn and tilt windows and glazed doors thanks to the flush design, which then stops the blind from rattling against the glass. This means that you can easily operate window and door handles with the INTU blinds open and closed, and gaps that let in light are minimised.
Types of INTU Blinds
INTU Pleated Blinds - 20mm pleats in a range of colours including blackout blinds
INTU Cellular Blinds - The honeycomb cell design is great for insulation
INTU Venetian Blinds - 16mm or 25mm slats available in a huge palette of colours
INTU Roller Blinds - Latest addition with a range of plains, prints and blackout fabrics
All of the INTU blinds in our range feature a non-drill, no screw installation system, meaning that they can be fitted and removed in seconds. INTU blinds are easy to open and close by hand, so they're much safer than blinds which feature a hanging cord. Without the free hanging cord loops that are traditionally seen on blinds, they are better for family homes and particularly children's bedrooms. INTU blinds are extremely versatile and come in a range of patterns and colours, with an added blackout option also available.
Advantages of INTU Blinds
No-drill installation protects warranty on your windows

Seamless part of your conservatory, window or door

Child safe with no long, dangling looped cords

Clutter free window seals

Easy to remove for cleaning, perfect for conservatories

Controls sunlight, enhances privacy and improves insulation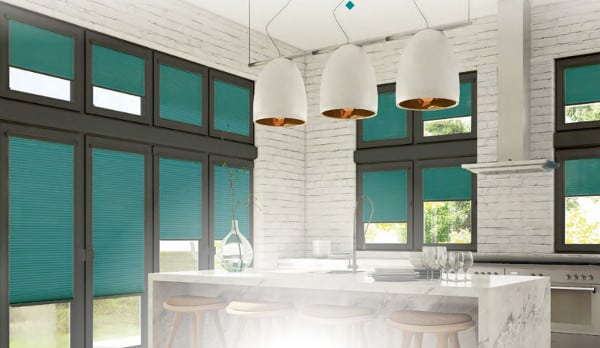 INTU Blinds Offer Increased Control and Privacy
The INTU cellular and pleated blind systems provide a flexible multi-zone option, so you have even greater control over privacy and light. These blinds have 2 moveable headrails, with one at the top and one at the bottom, which means that you are able to open the blinds from both ends. INTU blinds can be set to the exact position that you would like so that you can provide shade from direct sunlight whilst still allowing light into the room. Find out more about INTU multizone in the INTU brochure.
INTU Conservatory Blinds
INTU blinds are ideal for conservatory windows and are a very popular choice. Our INTU cellular blinds are perfect for conservatories as the unique design traps air within the "honeycomb cell", which keeps the room warm in the winter and cool in the summer. They create a diffused, soft light which helps to create a relaxing and calm environment.
Why Choose Blind Technique For Your INTU Blinds?
We have non-drill INTU blinds on display in our London-based showroom which we are happy to demonstrate for you at any time. Alternatively, you can arrange an appointment for us to come to your home at a time which is convenient for you. Our team will visit your home and answer any questions you have, whilst also providing a quotation on the spot using our bespoke software and iPads. We can even email the PDF to you before we leave, giving you time to decide if INTU blinds are right for you.
At Blind Technique, we have decades of experience in the industry, so we are strongly positioned to assist you in finding the right blinds for your home. Contact us today to book in for a free at-home consultation or come to see our showroom!
Find out more...
Read more