Our range of made to measure conservatory blinds have been our speciality at Blind Technique for almost 20 years as our flagship product when we started our family-run business.
We have great control over the production process as we locally manufacture window and conservatory blinds from the same family of fabrics here at our Eastcote, Middlesex location.
At Blind Technique, we can manufacture, supply and install your high quality and guaranteed bespoke conservatory blinds. Guiding you every step of the way for you to discover the right product at the right price. Arrange a FREE home consultation to access expert advice from our team.
Which Conservatory Blinds Are Right For You?
Conservatory blinds differ from other options in terms of their suitability. Some types and styles are more suited to the needs of this room than others and some benefit from being specifically designed for this space. You may also wish to consider coordinating your roof and window blinds in your conservatory to maximise the impact of your chosen decorative theme. During a free at-home sales appointment, our team will be able to advise on the right choices for your home.
At Blind Technique we offer the most popular and practical options for your bespoke conservatory blinds:
Pleated Blinds – Most popular, available in technical fabrics
Roller Blinds – Simple & stylish, also available in high-tec fabrics
Perfect-fit – available as pleated and 25mm Aluminium Venetian Blinds
Benefits of Conservatory Blinds
Made to measure conservatory blinds help to control the temperature of your conservatory. Our range of technical fabrics are designed to keep you cool in the summer and prevent heat-loss in the winter to save you energy and money. Bespoke conservatory blinds are an investment you may wish to make to maximise your use and enjoyment of this unique room in your home without temperature being a concern.
Light management is another benefit of conservatory blinds, as light has a direct impact on the temperature of your conservatory. If your conservatory is too bright in the summer, it can be overbearing. This can be controlled through conservatory blinds to help you enjoy the room more comfortably.
The element of privacy that comes with conservatory blinds is also a benefit, along with the ability to reduce noise to a minimum. Finally, made to measure conservatory blinds can completely change the aesthetic of the room, helping to refresh and modernise the space.
Types of Conservatory Blinds
Pleated Conservatory Roof Blinds – Most popular, available in technical fabrics
Shaped Roof Blinds
Blinds for Roof Lanterns
Blinds for Skylight Windows
Plus, other Bespoke Conservatory Blinds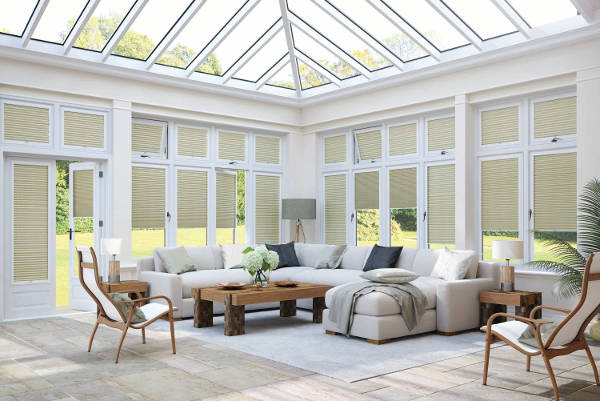 Motorised Conservatory Blinds
Advances in technology have improved the reliability and affordability of the motorised option for your bespoke conservatory blinds. We choose Somfy motors for most of our conservatory blinds which are quieter and more efficient than others. Also, sometimes battery-operated models offer you the elegant balance between form and function as you conveniently control how your conservatory blinds work for you at home.
Why Choose Blind Technique For Your Conservatory Blinds?
We are conservatory blind specialists for over 25 years
These bespoke conservatory blinds are made by us locally in Eastcote
We are a family run business with no pushy sales staff
Our conservatory blinds are high-quality and guaranteed
Read more