These aluminium slatted venetian blinds are the perfect versatile blind for creating a modern and uncluttered effect in your home or office.
Available in almost 100 different colours and finishes means there is certainly one suitable for you. The horizontal slats are conveniently offered in 4 different widths, 15mm, 25mm, 35mm, 50mm, and each of these is specially treated to prevent UV-light degradation.
Advantages of venetian blinds
Modern contemporary and fashionable in a wide range of colours
Light filtering to reduce glare and give privacy
Easy to use with a choice of slats and control options
Made to Measure
Suitable for Perfect-Fit and Velux Windows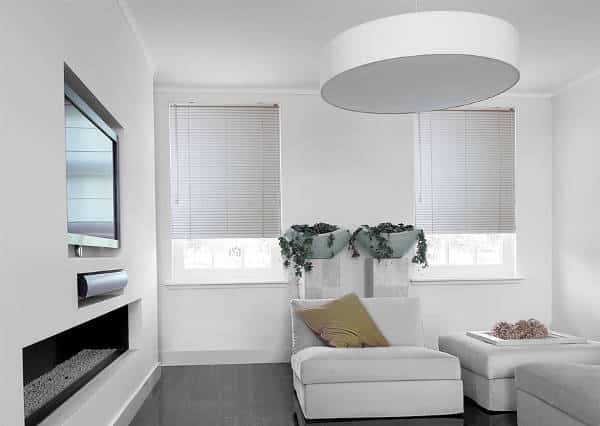 Venetian blinds design
The design of venetian blinds enables you to easily filter and reduce direct light using the tilt function, as well as open it up fully to achieve maximum light. This advantage makes it particularly suited for an office or study, cleverly diverting direct light away from screens for example. Furthermore, the robust and waterproof aluminium slats have also made the Venetian blind a favourite for bathrooms and kitchens alike. Additionally you are able to choose Venetian blinds as a Perfect-Fit or INTU blind.
If you would like to find out more about venetian blinds then please contact us for further information. The full range of slats and options, as well as some display Venetian blinds are available in our blinds showroom. If you would prefer a venetian blinds consultation at home with the samples and options then we will be happy to arrange an appointment for you. All appointments are FREE with no obligation. All of our team have the latest iPads so that we can instantly prepare you a quotation that is easy to read and understand, and even e-mail it to you there and then.
Find out more...
Read more