What are romo textiles?
Here at Blind Technique, we are excited to announce our latest collaboration with Romo. Romo, and Romo fabrics, are renowned for their wide range of contemporary and classic designs which offer stunning style and elegance, complete with sophisticated colours. With an outstanding reputation for offering excellent designs and products, here at Blind Technique, we now offer a range of products made using Romo fabrics, or we can supply the fabric itself for you to use at home.
Romo is home to 5 different brands, all offering their own styles and collections. Romo is a family-run business which was founded in 1902 and they are renowned for their diverse range of fabrics. Romo fabrics and textiles are high-quality and come with innovative designs and each of the 5 brands has their own unique style and character which make these fabrics truly desirable.
Black Edition
Created with the luxury interiors market in mind, Black Edition offers a blend of sophisticated textures and innovative designs created by their weaving techniques. Inspired by couture fashion, folk embroidery and 20th Century Abstract art, all Black Edition Romo Fabrics are unique in that they look almost hand-painted.
Kirkby Design
Kirkby Design is a collection offering modern and contemporary designs on a range of innovative plain and high-quality fabrics. The unique colour palette which Kirkby Design specialises in is made up of neutral colours, which are then intertwined with fun and fashionable shades.
Mark Alexander
A fun and eclectic collection, Mark Alexander Romo fabrics are made using artisanal craftsmanship and contemporary couture. These naturally beautiful Romo textiles and fabrics are perfect for adding a luxury touch to your home.
Villa Nova
Villa Nova is one of the young and vibrant brands working with Romo fabrics, offering versatile and modern fabrics for affordable home style. With both distinctive and eclectic prints and fabrics, Villa Nova takes inspiration from nature, fashion trends and art exhibitions for their designs. If you have a trend-focused palette, then you will love the Villa Nova collection.
Zinc
Taking inspiration from the height of 1970s style, Romo fabrics have Zinc - a brand which offers both originality and cutting-edge designs. For the ultimate in contemporary interiors, Zinc's monochrome palette has accents of bright and vibrant colour, whilst also offering luxury and versatile fabrics.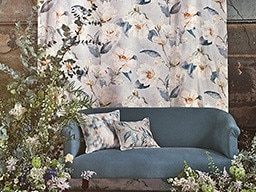 What products do we offer?
With Romo fabrics, we can either create the full product for you, or you can buy the fabric of your choice from us to use at home. Here at Blind Technique, we can create these products from your choice of Romo fabrics:
Shears
Voiles
Roman Blinds
If you would like more information on Romo fabrics, then please get in touch with our friendly team today
Find out more...
Read more