The Best Blinds to Keep Heat in Your Home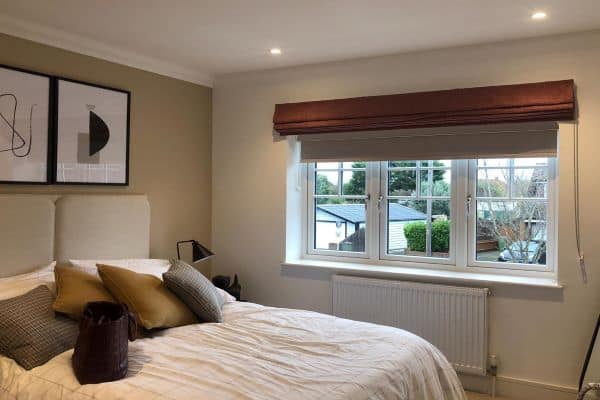 October 21, 2021
Autumn 2021 is well and truly here. The gradual, natural drop in temperature may mean that you are now looking for the best blinds to keep heat in at home. Daytime habits change too. When we go out, we tend to wrap up warm and on our return, look to achieve a consistently warm welcome from all the aspects of our home design scheme, too, including our choice of custom blinds and custom-made curtains.
Blind Technique's handy guide to the best blinds to keep heat in your home
If making sure you have the best blinds to keep heat in is your top autumnal priority right now, then Blind Technique  are delighted to share you with a short set of considerations to help you enjoy the level of comfort , warmth and style you aspire to achieve this season.
It's a whole window task – remember that the bigger the coverage of the window, the better the insulation. So, fitting your custom blind, shutters, awnings or custom-made curtains outside of the recess to your window would be preferable to fitting them inside it. Your installation considerations are vital when thinking about the best blinds to keep heat in. Installation means insulation – if you like.
Fabric, fabric, fabric –  not just colour, style or pattern, but rather the functional properties of the material you opt for too, play a starring role in the creation of your very own best blinds to keep heat in your home, this autumn. A thicker fabric or even a specially coated fabric could be the ideal choice to make.
Lining and layers  – our popular Curtains and Roman Blinds are lined and interlined. These significant sets of layers already present within the designs lend themselves beautifully to delivering higher levels of insulation for you, at home.
Choices to consider include…
Step forward Roman Blinds as the best blinds to keep heat in
Roman Blinds – the classic luxury choice when it comes to custom blinds, where the design has been expertly crafted not just in terms of fabric statement but in terms of its soft looping structure, too, presenting the material you choose to display at home, in its absolute best light.
Consider your curtains as perfect pairing partner to create the best blinds to keep heat in
Curtains – Did you know that if you are seeking to match your custom blinds fabric with the soft fabric you have chosen for your curtains, then a Roman Blind could be the natural choice to suit?
Pleated Blinds delivering on fabric performance as the best blinds to keep heat in
Pleated Blinds – this is when prioritising your fabric choice when choosing the best blinds to keep heat in, really starts to reap benefit for you in your decision-making. Did you know that all of our pleated fabrics with their product-specific backing work well to both eliminate heat loss and to prevent solar gain? The honeycomb structure design present in our cellular fabrics, for example, traps a layer of air which acts as a highly effective feature to improve insulation.
Window Shutters are a snug solution when choosing the best blinds to keep heat in
Plantation Shutters – an effortlessly elegant and iconic design choice. Wooden window shutters are a good option when deciding on the best blinds to keep heat in due to both the material used and their comprehensive construction. Plus, window shutters cover the whole window at installation time because they are crafted for you by bespoke manufacture – meaning they are made to survey just for you and your home offering a superb fit. Consider the winning installation combination of window shutters with integrated cellular pleated blackout fabric blinds
If you would like to discuss any of these options further, please do not hesitate to give us a call, email us with all the details or visit our Eastcote Showroom in person.
Don't forget – a Surveying Home Appointment with a member of our friendly and professional team could be the most effective way to ensure you have the best blinds to keep heat in, this autumn.
Remember we are here at Blind Technique to help – call 0208 866 6088 or email info@blindtechnique.co.uk