Are you looking for help installing your blinds?
Have you bought some blinds, a curtain pole, or an awning and now need a bit of help getting them properly installed? You are in the right place so read on to see how we can help.
Although we spend most of our time installing the products that we make ourselves and source for our customers, we do often have extra capacity to lend a professional hand to customers who have sourced their blinds or curtains elsewhere.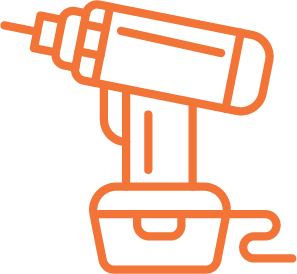 Questions about your Installation Requirements
1.? Are you relatively local to us? We travel a fair distance and cover a wide area but all in relation to our manufacturing and showroom which is in Eastcote, Middlesex, HA4 9LG. Anything further than 45 mins' drive away we, unfortunately, can not service.
2.? What do you need to have installed and where is it going? Ideally, a description accompanied by a photo of the product and where it is being fitted. As much information as possible will help but we can talk to you about this too which you may find easier.
3.? Please read the small print. Whilst we will do our very best and use our extensive experience to fit your products well, we do not know in advance the quality of what we are installing and the type of wall or window frame that we are fitting to.
Send us an email at info@blindtechnique.co.uk or call us at 0208 866 6088 to arrange an installer.
Rates for Installation
Depending on the job and location, we will provide a price subject to our terms. Here is a guide to give you an idea of the prices we charge.
Regular manual blind installation - £70 for the first blind and £30 for additional blinds
Curtain rail installation - £80 for a standard-size pole or track (does not include hanging the curtains)
Velux or skylight blind - £75 for a standard-size and accessible window (will be more for difficult-to-access or reach windows)
For larger jobs and multiple products, we offer discounted rates
To get a better idea of the price for your job, email us at info@blindtechnique.co.uk or call us on 0208 866 6088
Installation & Fitting Information for Blinds
Appointments. Morning appointments will arrive anytime between 8am - 1pm and afternoon appointments will arrive between 12pm - 5pm. One of our installation team will try to call you approximately 30 minutes to 1 hour before they are due to arrive on the day. Due to traffic and other factors outside our control, the timings may change.
Information for on the day. Please, make sure that somebody is in that can sign off the work completed. If you have any ornaments, pictures, family heirlooms, furniture, or other obstructions by the windows or on the window sills, please make sure that these are moved safely out of the way before the installers arrive.
Electrical Products. If you have any mains motor products that require wiring then you will need to organise an electrician to do this. We are able to install battery-powered items but due to the huge array of products on the market, we cannot guarantee the operation or programming.
Payment. Your invoice should be paid at the time of booking. You pay by cardm over the phone or via a link, or transfer BACS to Blind Technique, Sort Code:60-18-05 Account Number:15011453.
The small print
Make sure you read through our terms and conditions particularly section 5.8 on installation
As you have sourced your own products, we will not be responsible for the quality of the product or the size of the product
There may be instances whereby we cannot fit your product, for example, if it is unsafe to do so owing to the quality of fixing obtainable on your wall or window
There may also be instances where we need to carry out additional work to install your products and in this case, we will notify you upfront of any additional charges so that you can decide whether to proceed