Spotlight Series – Allusion Blinds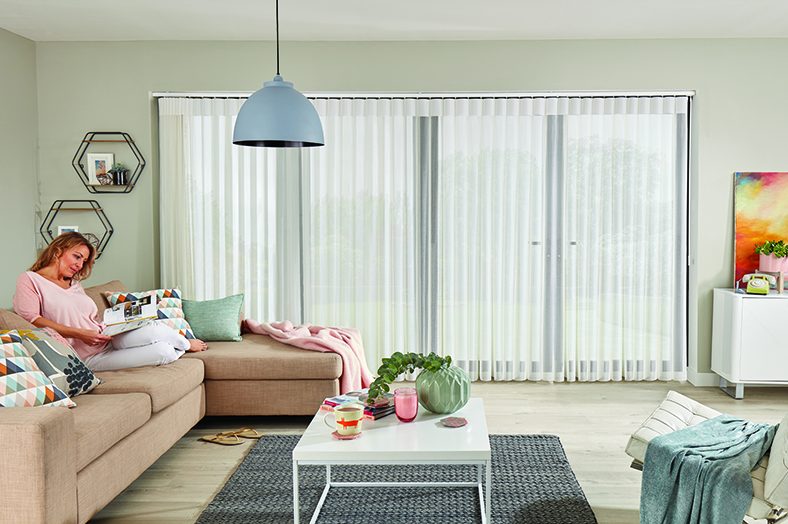 February 17, 2021
Welcome to the fifth of twelve product spotlight pieces to be published here on our blog!
Allusion Blinds are a relatively new style of blind that can be compared to a vertical blind in terms of the hardware and operation yet have a very different look due to the fabric. You could easily be mistaken in thinking this is a voile curtain as the appearance is very similar. It offers a new a welcome addition to the range of window blinds that we offer at Blind Technique.
Allusion blinds are perfect for larger openings and can be made as one continuous blind of up to 6 meters wide. As the trend for open plan living spaces continues so does the popularity of wide expanses of glass in the form of bi-folding or sliding patio doors. The Allusion compliments this type of installation perfectly by opening fully for that uninterrupted view that has become top of everyone's design list! Equally, it provides adjustable amounts of shading and privacy to provide the versatility required throughout the day and throughout the seasons.
Here are a few things you may wish to consider about this type of blind when choosing your bespoke blinds. Once you know your initial wishes, contact us.
As ever, Blind Technique is here to help.
Features – Allusion Blinds
– Pelmet option to finish the look and hide the headrail
– Effortlessly controlled as standard with a control wand
– Substitute for a cord or motorised control
– A stylish contemporary choice for a modern home
– Increasing choice of fabrics
– Locally made by Blind Technique with British components
Benefits – Allusion Blinds
– Ultimate control light and privacy – full view, daytime view with privacy, total privacy
– Individual panels of fabric which can be parted to walkthrough
– Offers a good level of dimout when adjusted to total privacy
– Modern and sophisticated colour palette of fabrics
– Practical and modern choice for interior design
FAQ's – Allusion Blinds
1. Who makes Allusion Blinds? – We manufacture Allusion Blinds at our workshop in Eastcote, Middlesex, the components are British made too by Louvolite, our main supplier of components and hardware.
2. Can these blinds be motorised? – Yes, although we would recommend the manual wand-controlled option.
3. Can the fabric be retrofitted to my vertical blind track? In theory yes but we wouldn't recommend it. This is because the spacing between the carrier trucks in the headrail is different.
4. I have children, are these blinds suitable? – Most importantly our wand operated Allusion Blinds are 100% child safe as there are no dangerous looped cords. However, they could become a fun game for children to run through and hide and like all soft furnishings this could damage the fabric.
5. Are they suitable for smaller windows? – They can be installed on standard sized windows though we would not recommend on very small openings. It is also worth bearing in mind that, like vertical blinds, you lose the space on your window sill.
6. How are they operated? – Using the wand you simply push or pull to open or close the blind and twist the wand to rotate the fabric louvres and achieve full privacy. It is also worth noting that you can choose the stack side for this blind so that the blind closes to the right, to the left or is split like a traditional pair of curtains.
7. How do I get a quotation? – We are always happy to discuss your requirements and give you some helpful advice. We can also prepare a quotation for you or arrange a free consultation. Please speak to one of the Blind Technique advisors to find out more.
If you have read to the end of this handy guide – thank you!