Retractable Awnings
Whatever your awning requirments, we can help you find the perfect solution by offering the following:
A full range of awnings suitable for both domestic and commercial applications
Choice of cassette, semi cassette or no cassette
Option of motorised on manual control
Range of extras such as sensors, lighting & heating
Expert installation and guarantee
Discover our range of retractable awnings and canopies today!
Our range of retractable awnings and canopies are designed for both domestic and commercial use to ensure that you are making the most of your garden and outdoor space. Whether you have a stylish terrace, want to add a sales message or logo or create an outdoor smoking area, we have a vast number of options here at Blind Technique, which are all varied and tailored to your requirements. From wind protection, sun protection and privacy to creating an al fresco dining area, we are confident that we'll be able to find a solution which is right for you. All of our retractable awnings come with the choice of a wide range of fabrics, all of which are fully protected and waterproof.
At Blind Technique, we work with commercial contracts for bars, offices, retail outlets and restaurants, as well as dealing with the requirements of homeowners in London and the South East. External awning and shading systems are particularly efficient when it comes to controlling solar and heat glare and, in this respect, they are extremely effective in south facing applications. Whether you're looking for a simple shading solution for your home or want to add an all-encompassing motorised solution, we would be delighted to hear from you - get in touch with us today!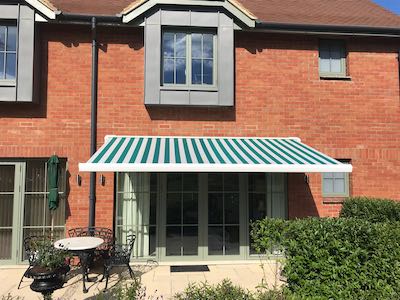 Drop arm awning
1.5 - 5.0m width
0.75 - 1.5m projection
Domestic & commercial applications
Sturdy & light weight
Corrosion resistant powder coated framework
Stainless steel components for lasting durability
Slim flush cassette to protect the fabric when retracted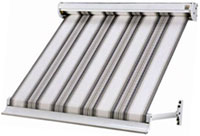 Folding arm awning
One of our most popular retractable awnings is the 'folding arm' and it comes with a few alteration options. Firstly, you have a choice of a full, semi or no cassette awning. A cassette awning means that the awning fabric and arms are visible when the awning is retracted. A semi cassette awning protects the fabric, but not the arms when it is retracted and a full cassette awning houses both the arms and fabric. You also have the option of whether you would like the awning to be motorised or manual.
There are 6 folding arm awning choices:
» Please click on an awning to see the full specification
| | | | |
| --- | --- | --- | --- |
| Folding Arm Awnings | Swingline | Trendline | Topline |
| No Casette | Cheetah | | Jaguar |
| Semi-Cassette | | | Panther |
| Full Cassette | Puma | Sunbox / Zephyr | Cougar |
Swingline are aimed moreso at the domestic market
Trendline are designer style high quality and high spec awnings
Topline awnings are more heavy duty and aimed at commercial installations
No Cassette - Fabric and retractable arms are exposed.
Semi-Cassette - Fabric is protected in a cassette when retracted - Folding Arms are exposed.
Full Cassette - Both Fabric and Folding Arms are fully protected in a cassette when the awning is retracted.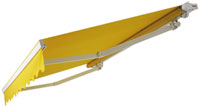 Pergolineterrace awnings
Up to 5m width and 7m projection
Ideal study and robust extension to your home or business
Wind tested class 3
Corrosion resistant powder coated framework
Stainless steel components for lasting durability
Sign write your company logo or message
Awning fabrics
All of our fabrics for our retractable awnings are fully waterproof and protected. We have a great selection of materials and are sure to have something which will meet everyone's expectations. Our sales advisors will be able to show you the full range of retractable awning fabric options we have available.
» Our sales advisors will be able to show you the full range of awning fabric options that are available, something to suit every taste.
What's more, our awning components are thoroughly tested, gaining both CE and TÜV approval. By using only the very best materials, we ensure that our products come with a long service life - even in extreme weather conditions. All models can be operated either manually or electrically and can be equipped with wireless Sun & Wind sensors, LED Lighting and remote controlled Tungsten Patio Heaters. In-house signage is available to suit our commercial client's unique and precise specifications.
For all your retractable awning and canopy needs please contact us.
Further awning information
Read more